Captec Win Queen's Award for Enterprise 2016
Captec, the Hampshire-based business that design and manufacture specialist computing platforms for industry, is today delighted to announce it is a winner of the 2016 Queen's Award for Enterprise, the UK's highest accolade for business success.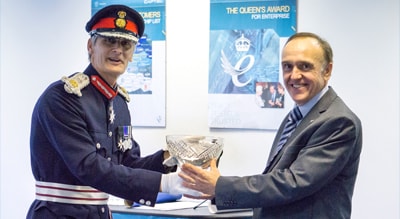 The award recognises substantial economic growth and strong export figures between 2012 and 2014. It has been honoured for outstanding international trade results in a period which also saw the company listed in the Sunday Times Profit Track 100.
Captec has been developing specialist computing platforms for over 30 years during which time it has grown from a one-man operation to an industry leader with over 100 employees. Its other areas of expertise include complex systems rack integration, mobile tablet integration, engineering design services and comprehensive through life technical support.
Queen's Award entrants were judged against business impact on society and environment as well as supplier, partner, contractor, employee and customer relations.
Captec help keep highly complex applications running by offering extensive experience married with sound business processes that play a crucial role in supporting the integrity of critical computer systems.
Among others, it supports advanced medical, defence and transport applications by engineering for reliability, robustness and longevity, ensuring platforms maintain extended and guaranteed availability.
By working closely with its customers to achieve all the complexities required to operate reliably in their challenging environments, Captec help many companies to keep society functioning by developing computers that protect, improve, enrich and even save lives.
In order to maintain good client relations, Captec regularly engage with its customers to ensure their needs and expectations are fully met. This has contributed to a very high percentage of customer retention. It also conducts regular audits of its suppliers to validate policies, processes and systems, often extending to visits to the Far East where it has established many business relationships.
The preservation of the environment is one of Captec's core drivers. As well as being an ISO14001 approved organisation, it has recently completed the installation of a 150kw solar plant on the roof of its headquarters as part of a mission to achieve carbon neutrality.
The company continually invests in its people through training schemes and external education, resulting in many staff members being promoted from within to managerial positions.
Captec maintain close relations with colleges and universities across the South Coast. It is currently developing an incubation centre where entrepreneurs can receive funding and mentoring for ideas in the field of technical innovation, including wearable technologies and IoT.
Captec will receive the award at the Buckingham Palace Reception on 14 July 2016. The Lord-Lieutenant of Hampshire will also make a personal visit to the company's headquarters to present it with a Grant of Appointment and crystal bowl as part of an awarding ceremony.
Captec founder and CEO, Max Toti, said:
"We are immensely proud and honoured to have won a Queen's Award.
This is a reflection of the hard work and dedication of the entire workforce in creating specialist computing platforms that contribute to society by delivering continuity, enhancing quality of life, maximising safety and security."