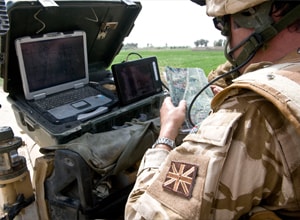 We will be exhibiting at DPRTE on stand 105 – the UK's leading annual defence procurement and supply chain event – for the second year running.
We will be showcasing our naval-certified racks, mobile-deployable computing, rugged tablets and high performance ruggedised computing platforms. As computing deployment becomes more pervasive and complex in the theatres of defence and security, we are positioning ourselves as an innovative and disruptive entrant into the ruggedised computing landscape.
With extensive in-house electronic and electro-mechanical design capabilities, supported by manufacturing scale, we innovate to deliver bespoke and COTS-based computers tailored to meet exact technical performance and budgetary requirements for land, sea and air applications.
Through expertise in complex project management, compliance and certification and lifecycle support, we are emerging as a leader in the supply of computer platform solutions for defence.
Peter Molyneux, Strategic Defence Projects Director, Captec, said:
"Captec has continued to achieve significant contract awards in defence. DPRTE gives us a further opportunity to introduce Captec capabilities to systems integrators and key personnel in DE&S. With our defence business development team and representation from our strategic partners, Captec will be available to discuss your specialised computing projects."
With the recent acquisition of Cove Industrial Enterprises, we can now deliver a more integrated one-stop, end-to-end electromechanical and computing platform solution.
DPRTE, held at Farnborough International Exhibition and Conference Centre, opens its doors on 28 March and provides a dedicated platform for the enhancement of skills, knowledge and efficiency across the defence sector buying community. This is in addition to the development of new and existing business for suppliers in a marketplace valued at over £20 billion annually.
Don't miss the chance to speak with our defence specialists at DPRTE about how we can help to:
Ensure the successful delivery of your project on time and in budget
Deliver an innovative computing/rack solution to your current technical challenges
Outsource your design and integration of computing and electromechanical requirements
Leverage our liquid and immersive cooling technologies to support your high power computing needs